Final session today for this week - Different conditions to my previous trips. Light onshore winds finally returned, with a choppy 3' swell running on the South Coast at my mark. Fished an hour after high on the drop. Went to a location where I have had good numbers of Bass in the summer, hoping to find some early ones.
I also wanted to try out a selection of small plugs I have recently aquired. Spent the first hour casting and retrieving, changing lures, seeing how they behaved in the clear deep water. Two that particularly got me excited were the Nories Laydown Minnow Mid SW92 92mm 11.8g Suspend Silent and the Nories Zag Stick SW85 85mm 11.8g Slow Sinking Silent. The Laydown Minnow swims well, and when paused, it really does suspend in the water column, even in the swell and currents. The Zag Stick sinks on a lovely slow glide, and when retrieved or jerked, swims back in a wide 'S'
With no fish showing, no takes sign on the plugs, decided to finish off the session fishing with the SP's. Rigged up a Nories Fat Flat 4" with a Texas 5g sinker with size 1 weedless hook. Third cast into the rogh stuff, and a good take leading to a fish on, short fight, and another Wrasse landed.
Weighed in at 1lb 15.5oz. Did measure it, but the photo was too bleached to read the numbers! It was caught on a Nories SeaBass Program 72LLS Tide Controller rod, rated 5-12g, 0.8PE YGK line on a Certate 2506 reel. This rods fishes small plugs and SP's really well, and the Wrasse put a nice little bend into the rod. The lure did not fare so well in the encounter, hook pulled through the side, guess it shows that the lures are of a nice funtional softness.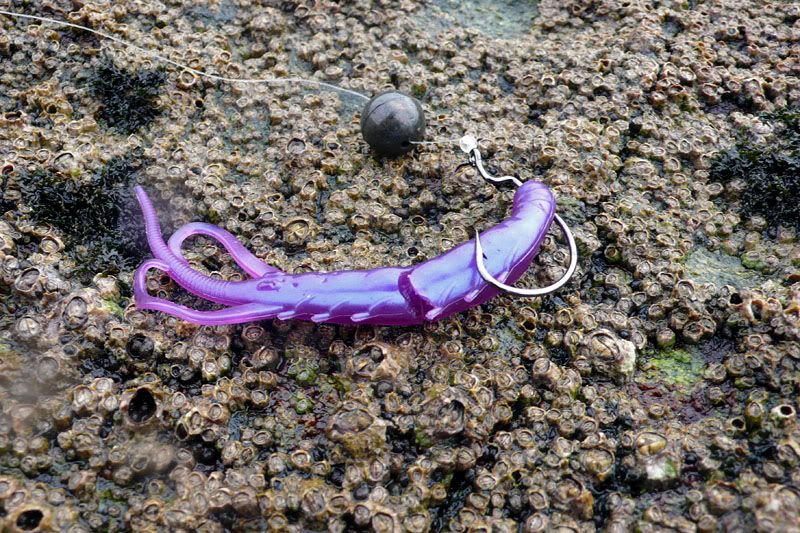 Three daylight sessions, three different marks in both Devon and Cornwall, with three Wrasse to show for it this week. No monsters, but at least it's getting a bit more consistent.