Fished down in West Cornwall today, at a familiar mark to me. A decent swell running in clear water, minimal wind. Fished from low and through the flooding tide. Tackle was the morethan Branzino Urban Custom 87LML, first outing for the '10 Certate 2508 and Sunline Castaway PE1, and a selection of plugs and vib lures.
The Pollack were abundant, and the vib lures were doing the business, especially the Jackson Mixim 72mm 17g as seen below. It casts like a bullet, and worked today on a sink and draw as well as a straight retrieve. Sadly I lost this lure after a decent sized fish bolted into some thick weed, snagging the lure whilst the fish made off!
Also went back to basics, and took a few Pollack on the trusty old Dexter Wedge, sink and draw, with the Pollack hitting it on the drop;
And another new lure working very well, the Nories In The Bait Ocean 12g Vibe. Small metal vib, but with a large spinner blade on the rear, feels amazing in the water, the blade spins quickly, with quite a bit of resistance for its size. The Pollack went mental for it, hitting it straight off the cast, and on the drop. Think I will be adding a couple more of these to the collection;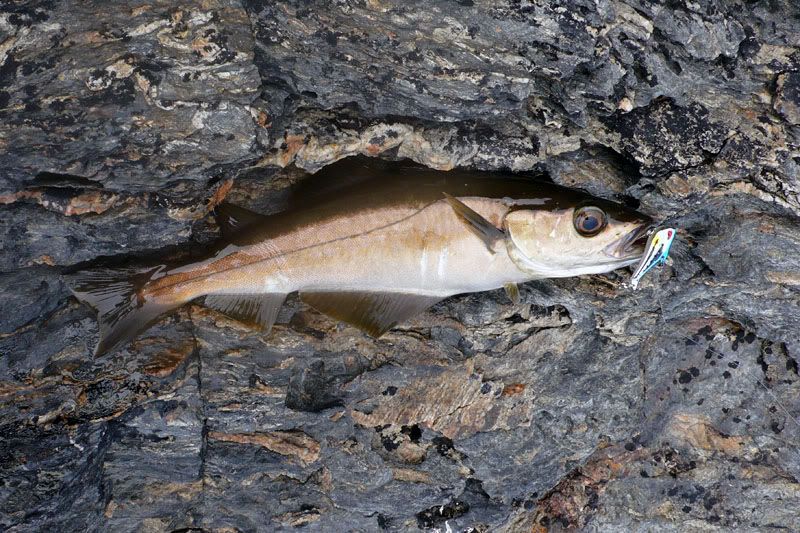 Finally, whilst working a cauldron of white water close in with my new Zonk, had the familiar hit of a Bass. Poor chap did not get the chance to put up a fight, as he took the lure at my feet, as the swell surged, was landed in a flash! I have to admit, I have been a bit slow off the mark, and this is my first Bass this year, the last one I had was December 2010! However, I have not really put much time into targeting them either, so happy to get off the mark. Probably should have weighed and measured, but was not too big so slipped it back into the water after unhooking;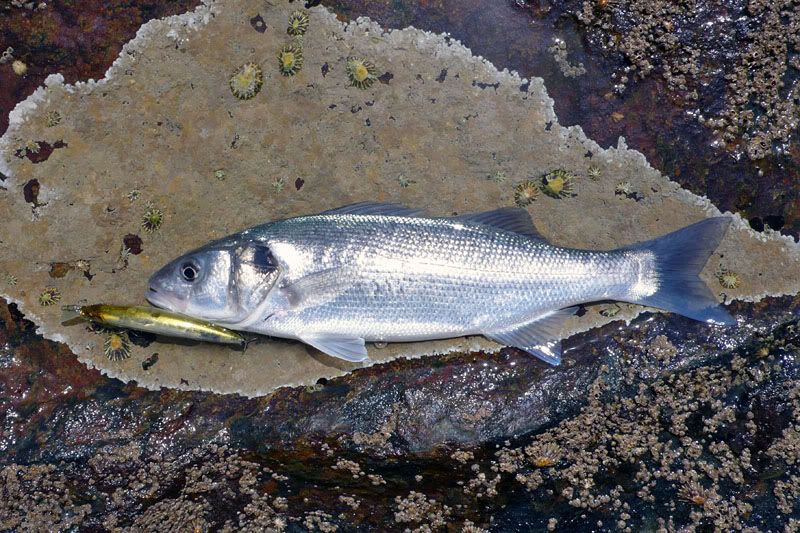 Finished the day with eleven Pollack and the one Bass. New reel was a pleasure to use, works better on the rod than the 2506 version I was using previously. Was also nice to get out and chuck a few hard lures, the first time I have done so this year.