Very short session earlier today - Wanted to try some new grounds right on my doorstep at home. It's an area I have been told Wrasse inhabit in numbers by friends who spear fish there. Requires calm, lower water, and a good note of the tides, as it's a real cut off spot.
Spent a good hour walking around, and maybe only cast a handful of times. First retrieve amongst the deep weed filled gullies saw a fish following, followed by a take but no connection. Played the lure off a short cast back to the same area, and connected, bringing in a small Wrasse.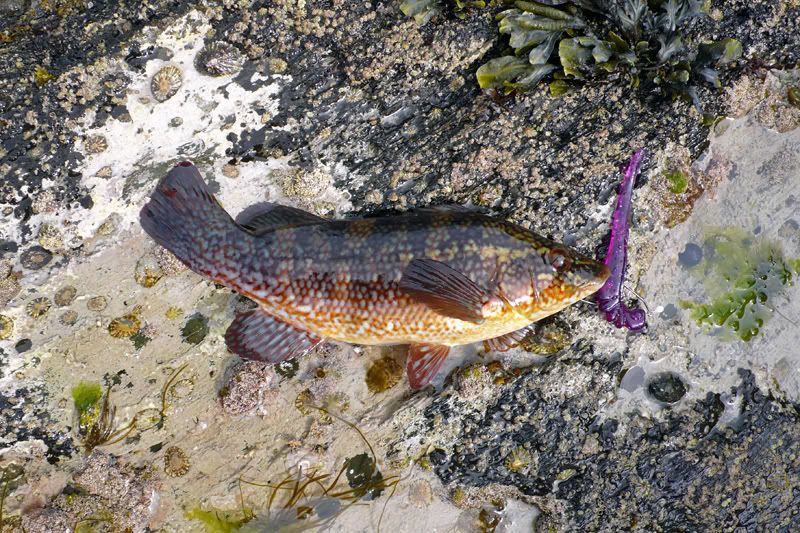 Next gully over, couple of casts later, deadstick amongst the weed, connected with a much bigger fish. Small battle getting him out of the weed, and landed. This one measured at 46cm and 3lb9oz.
Both fish were caught on Andy Marquis home made lures, Texas with a 3/0. Rod was my Nories RockFish Bottom Light (7-15g) with a Certate 2506 & 0.8PE. Fishing was cut short - I did not realise I had a bad wind knot whilst playing the bigger Wrasse, plus the leader snapped as I hand lined it from the water (really considering a pair of Bogas!). Although I was tucked up under a cliff, the wind was nearing gale force, and I decided that it would be best to come back and explore further on a better day weather wise. Pic below shows the wind whipping the sand across the beach surface;
Will deffo be heading back on foot again, but weather permitting, will be using a Kayak borrowed from the local surf club to get in amongst the gullies without fear of cut offs.