Weather this week has been amazing, with brilliant sunshine, and little to no wind. The sea, whilst still cold, has been very flat and crystal clear. A short after work session was on the cards, fishing locally in South West Devon, with the tide pushing from low.
It was a good chance to get some more time on the water with the Major Craft Volkey Big Lake Custom Series VKC-70/BL 7' / 3/8 - 1.5oz

. Paired with a Daiwa Ryoga 1016HL, freshly loaded with a spool of Sunline Siglon V Mono 14lb.
Target species was Wrasse, fishing amongst the deep kelp strewn gullies, left by the receded tide. Kept it simple with a 7g Texas rig and a size 1 wide gape weedless hook. No need for a leader with the mono, quick and easy. I fished the whole session with just one type of lure, the Ecogear Minnow M. I had good success with it towards the end of last year, and Luke at
cornwalllurefishing
has been really smashing the Wrasse with it lately.
Conditions were pretty much perfect at the waters edge, oily calm water, blue skies and evening sun.
The action came fast, with 11 Wrasse being landed, and a couple lost. The 7g rig plus lure would be at the suggested lower end of the rods capability, but I found casting and working the lure slow close to and along the seas bed to be very good. The rod tip is more sensitive than maybe the rating suggests, and easily transfered small bites into big hook ups.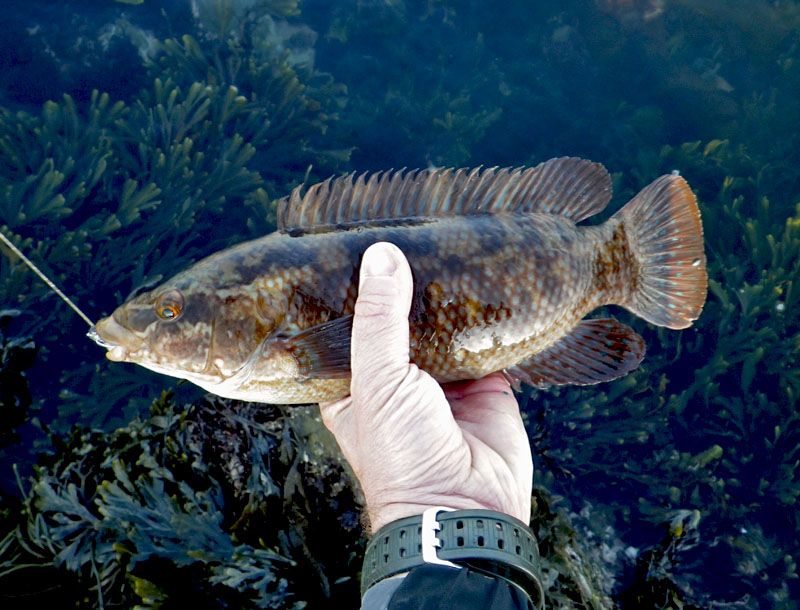 It has been a while since I had fish landed in numbers, hopefully the hard winter weather is now behind us, looking forward to a great season. A good first outing the with Sunline Siglon V Mono, cast well, and no problems with the Wrasse dragging it in and over the rough stuff, will get some more time with it in the coming weeks. The rod proved a great tool, breaking the fish out from the deep kelp cover, whilst still enjoying the fight. Should prove a good tool when hunting for those monster Wrasse.