Squeezed in a half morning session down on my visit to West Cornwall this week. Headed out to the usual deep water rocky coves, for a long overdue chuck of some lures. Fishing with the Major Craft KG Evolution Hirasuzuki Series KGS-1102HIRA 11' of casting machine with a rating of 10-45g. Paired up with the Shimano Stella 5000SW loaded with Sunline Momentum 4x4 30lb braid.
This combination opens up the world of distance lure casting, be it metals, soft lures or plugs. A comfortable rod to use for its length, I personally find it ok to work surface lures over a long session, like the DUO Realis pencil. Today I was fishing a selection of DUO lures, from shallow divers to sinking flutter baits.
First fish of the day came on a dropping tide, a Bass falling for the tasty size of the DUO Tide Minnow Slim 200. This lure is simply superb in the water, casts well and looks great, you just need to find a lure box big enough to store them!
After the Bass, a few Pollack and Mackerel were landed, on the DUO Tide Vib Slim 140 and Press Bait Kamuy's respectively. The Press Bait series work particularly well off the rocky deep water marks in West Cornwall, allowing you to search out the deep waters. The hits are usually fierce as well, as the fish smash the lure as it sinks back down.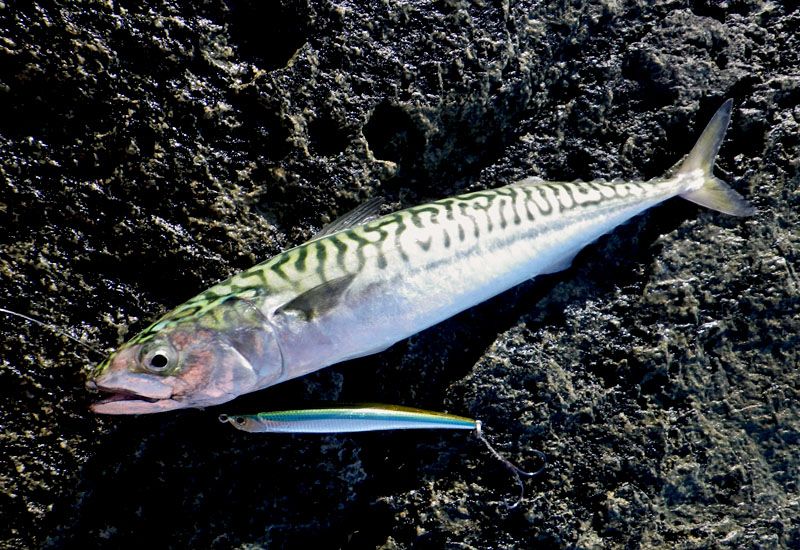 Hopefully in the next few days I will be taking delivery of a couple more Major Craft rods, both from the same series, but very different to anything I have tried before, so looking forward to that a lot. I will get the details up once they are in my hands.
If you want to find out more about the DUO range of lures, then check out the English version of their website at http://www.duo-inc.co.jp/en/